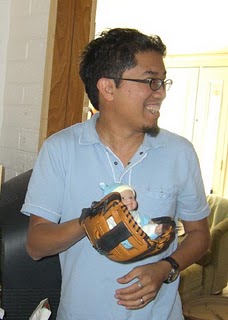 On Christmas day, among the many presents that were opened at my mom and dad's house, was a perfectly square box the size of, I don't know, someone's very large head. It was addressed to Rom and didn't say who it was from, but was written in the Santa handwriting my parents devised to fool us when we were kids.
I handed it to Rom and he extracted from it one tiny baseball mitt containing one tiny baby doll, and a note from my dad that said, "Nice catch, Papa!"
Meaning, way to go by not dropping Baby Mica when he was born!
Haven't you heard? It was just Rom and I when Mica was born. My labor started in the middle of the night, and then by the morning, after we called the midwife and the tub lady, and Orlando and Grammy woke up, my labor stopped. Pretty much. So we asked the midwife to wait and Rom and I spent the morning together, with the Eternal Om music eternally playing. We went for a walk, which was lovely, into the fall leaves and to look at the lake. I would stop and hold still for the contractions, and Rom would stand next to me — a sentry between me and road.
We came home and I could see that Orlando was tired, so I suggested that my mom take him for a walk-nap. I said, "Maybe you'll want to come back in an hour."
And within an hour, Mica was born. Into Rom's hands!
He came out between the two of us, and I held his slippery self against me with my hands upon him and my face near his, saying, "Hello, hello, hello."
And then everyone arrived — my mom and Orlando returned from their walk and the midwife and her student came in.
My mom watched me and Rom holding our baby. Orlando watched the baby nursing, and then he nursed, too. The midwife watched all of us. We had an unassisted birth after all! And help cleaning up!
Mica was born at home, into his papa's hands, at 2:03 PM on October 25, 2006.