I wrote this post as part of the monthly Carnival of Natural Parenting hosted by Code Name: Mama and Hobo Mama. These two bloggers recently launched the Natural Parents Network, a community of parents and parents-to-be who practice or are interested in attachment parenting and natural family living. Visit their new site to be informed, empowered, and inspired!
Also, you can find a list of links to the other carnival participants at the end of this post.
* * *
They're gone. We recently moved, and I gave away the little potties.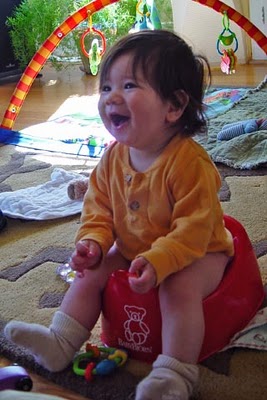 Orlando on the potty (8 months)
Those little potties had been around a long time — seven years, in fact. I remember when I bought the first one, a red Baby Bjorn Little Potty.
Orlando was three months old, and I had just heard about Elimination Communication four times in one day.
The first was at our Early Parents Group, when someone mentioned some "crazy lady" she had seen dangling her baby over the potty every fifteen seconds. I remember, even then, being able to sense the layers — there was what the mother was doing and there was the other mother's reaction to what the mother was doing, all wrapped up in one.
Then another mom piped up with, "That's what we do in Russia. Whenever a baby wakes up, we hold it over the bathtub."
Wheels were beginning to turn. Something not yet familiar, but sensible.
Then I came home to an email from our childbirth teacher, announcing an evening talk on "elimination communication." I read the page-long description, taking it all in, realizing I wanted to attend.
I mentioned it to my husband, and he shrugged and said, "Yeah, we do that in the Philippines."
And off came our baby's (cloth prefold with cover) diaper off right then and there!
When we were home together, I would lie Orlando down on a baby blanket naked and notice when he peed. I offered him the potty. I remember trying to decode and decipher the whole process, and I definitely thought at the time that there existed a key that would unlock the baby-pee-poop mystery. I was determined to find it.
I kept him naked a fair amount of time at home, though I diapered him (in cloth prefolds with a cover) when out and about. I offered him the potty if it was easy when out and about, but I didn't worry about it too much. I read Ingrid Bauer's book. I joined online forums. I started our local chapter of DiaperFreeBaby. I charted his pees and poops! I was a woman obsessed. Perhaps I had come to resemble that "crazy lady" first mentioned to me…
But I couldn't blame myself. What else can we do in the absence of having the way modeled for us in person, passed down from mothers, grandmothers, aunties? I did my best with what I had. And I think I eventually relaxed about it, realizing there was no key, or rather that the key was to be receptive not preemptive, to connect not control…
And if I didn't relax then, I really, truly relaxed by the time my second child was born. That guy came out of me, onto our bed at home, and into his father's arms, and then into mine. I held him and nursed him and diapered him (cloth prefold with a cover, again). When we woke up, I nursed him, put the potty bowl between my legs, and cradled him over the opening.
"Hm," I thought. "Nothing's happening…" and as I lifted him off, I saw it, his first poop, his meconium poop, plopping right into the pot.
Well, I'll be.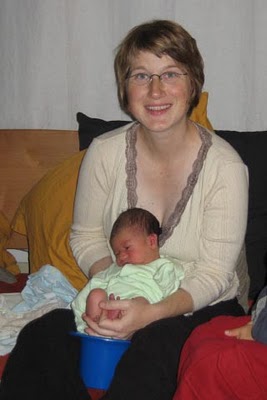 Mica on the potty bowl (3 days old)
With Mica, I diapered him in cloth (prefolds with a cover) and offered him the potty every diaper change. Who had time to sit around making charts anymore? Plus, I had been my own role model, had found other role models, my EC muscles had their own memories and the ease of experience.
More…

The EC Store carries the EC basics.

Continuum-Family: Natural Parenting Essentials carries many EC supplies.

DiaperFreeBaby is a comprehensive clearing house for all things EC-related: support groups, articles, how-to information, photos, links for more gear, etc.
This post of mine has more "how-to" information.
* * *

You can visit Natural Parents Network today to see excerpts from everyone's posts or use the links below.
If you want to participate in the next carnival, learn more at
Code Name: Mama
and
Hobo Mama
.
Other carnival participants:
Attachment/Responsive Parenting
Attachment/responsive parenting is generally considered to include the following (descriptions/lists are not exhaustive; please follow each link to learn more):