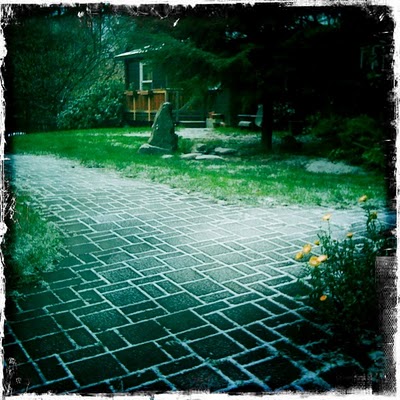 I see Rumi's poems, out there, on these wonderful blogs… I hear Rumi poems, read aloud, at the Hakomi workshops… I feel Rumi poems, deep down in the pit of my soul.
I checked out some books from the library, including The Big Red Book, and with Rom at the kitchen counter and the kids zig-zagging their cars all over the coffee table, I sat on the couch and randomly turned to The Well-Baked Loaf. I read it and I cried, just that little tear-welling-up cry. The yes/thankyou/god cry. The I'm here/I'm seen/I can ascend cry.
Rumi has a way with that.
Lately, I can feel the tension, the down-energy, the STOP vibe ping-ponging all over the place. The fighting! The constant good-guy/bad-guy play (which really triggers me). Orlando's deep unsettledness, needing constant stimulation; Mica's sleeve in his mouth, mashed to mush by his continual chewing. My spitting irritation and Rom's had-enough-of-it-all.
This does not feel good — all of us meshed up like this.
On Thanksgiving Day, we are heading out for a walk in the woods. Mica doesn't want to go but Orlando, Rom, and I do. We walk the balance between holding (seemingly) opposing desires and seeing them coalesce versus just forcing the things together so we can get out the door.
That balance.
Rom is heralding Mica and I am simply steeling myself, hoarding myself up inside, not getting involved, trying to just get through this, the next moment, but also sensing that Rom feels abandoned and wants my help but he's not asking. Orlando is dressed and ready, accusing us: "I am too hot!!" while Mica is lolling about on the floor saying he wants to go barefoot.
It's snowing.
We get to the car by telling Mica that he can put on shoes once we get to the woods (it's a short drive but sadly not walking distance like at our old house). Works for him, but once in the car, Orlando is accusing us again: "It's too tight!" He can't get his buckle over his thick winter coat.
I'm sitting in the front seat, staring straight ahead when I hear it — the should.
It should be fun to go on a family outing! Shouldn't we be enjoying ourselves?
And then I suddenly see that I could, at that very moment, choose to enjoy myself, so I do.
I get out and loosen Orlando's buckle. I look forward to the woods. I realize that Mica might not get out of the car and that we might not walk in the woods at all. Ah, yes. The constriction — the agenda — is revealed, and released.
When we park at the woods, and I go to help Mica out of his seat, I see that he has peed in his pants. He wants to change himself. I sit in the front seat, facing backward, not helping him. Until he is ready for help, and then we put on his snowsuit, his socks, and his boots, and Rom pulls him on the sled and we reach the creek, and the creek is not frozen and the kids push the snow in and watch it melt and slide away, all the way to the ocean, which we cannot see but somehow know is always there, its vast arms always wide enough to receive.
We push the snow in, we look at the sky, we see each other, and we breathe.