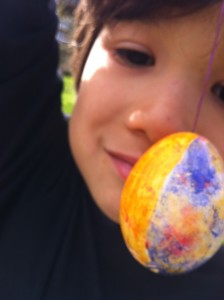 A couple of us moms were still preparing — skewering the hollow eggs so they could be painted, squirting small blobs of paint onto plates, and tying toothpicks to strings. The kids had just come in from outside and were flushed pink. Ms. Hayes suggested they sing a song, drawing them into a circle, and they held hands. Mica and I had come for the afternoon, to celebrate the beginning of spring.
Mica joined the circle and sang along, though he had never heard the song before. It was sweet. Then there was a part where you hooked arms with another and skipped around. There were only six kids including Mica, and the pairing went fast — it was just Mica and Orlando left standing, and Mica approached Orlando and Orlando stumbled back. It was only a moment but crystal clear. Ms. Hays swooped in and took one kid in each arm, and skipped with them both. I thought it was an artful move, but then Mica sat on the ground and cried.
Ms. Hays stopped and bent down to him, "Are you sad because you wanted to be partners with Orlando?"
The tears were spurting out of his eyes and his wails were loud. He can't really talk when he cries (can anyone?) but it seemed like he nodded and said "yes." It was hard to tell. I squatted down next to him, too, and Ms. Hayes and I made eye contact. She went back to the other kids.
I sat with Mica a moment, and then picked him up. He relaxed in my arms and cried harder, and I realized that I wanted to leave the room, where the kids were still singing and dancing. I carried Mica out of the room and we sat on one of the couches in the hallway.
It was more private. I was more open. Mica was crying.
He was in my lap, facing me.
We sat for a little bit, with me comforting him.
Finally, I said, "Oh, you sound so sad. You wanted to be partners with Orlando?"
"Yes!" His tears were just popping out, his head thrown back. Then the kicker: "And he didn't want to be partners with me! He never wants to play with me and I always want to play with him!"
Oh, brothers.
I murmured a few things, here and there:
"You are so sad…. and kind of mad." (He often pushes against me when he is crying.)
"I was a little sister once, and I remember I liked playing with my sister so much."
and
"It's hard to be a little brother sometimes."
He cried, and pushed, and pulled, and rested.
Mostly I was just still. Sitting soft in my body, attending but without agenda.
I don't remember how it started — maybe it was because he was pushing on my breasts, but I took my finger, pointed to my heart and then made a bridge from my heart to his.
He didn't like how it went from one side of me to the other side of him (not realizing that we were mirror images of each other), so he started doing it from both sides to both sides.
Then we sat on each part of the couch and did it.
He said at one point, "I don't want to go back in there."
I gave him a soft smile and a gentle shake of my head, "You don't have to go back in there. Not unless you want to, honey."
He started to draw a circle on my breastbone.
He told me, "It is getting bigger and bigger!" and I realized that it was a heart.
I drew a big heart on him, too. We were smiling at each other.
And then he made a wall of my hands in between our big hearts — "Oh, no!" he said, and then he took his finger from his chest and it went over the wall and touched my heart, and then back to his heart. He smiled and I did, too.
We made it.
Then the wall again, and this time his finger went through it. Another wall: dissolved into thin air.
And we sat like that, on a beat-up old fake leather couch in the hallway of a building reclaimed for public art and other endeavors — such as a tiny Waldorf classroom, where children were painting eggs.
Mica said, "I want to go in now."
And that is what we did. We went in, and came out the other side.
~ * ~
"Soft hearts" is one of those everyday phrases used by Gordon Neufeld to point to a very deep and fundamental human process. While I wrote this post much as I've written so many dozens of others about being with my children and their feelings, I could also explain these beautiful moments with Mica like this:
When faced with frustrating circumstances, we can either 1) change those circumstances (if possible/plausible); 2) adapt to that which we cannot change; or 3) let frustration build and come out in the form of attack, e.g., hitting, screaming, irritability, sarcasm, et al. In order to adapt, we must feel the futility of the situation (e.g., Mica is and always will be a little brother), and move from "mad to sad." This is an emotional process, not a thinking one. That's why it doesn't work to tell kids — or grown-ups — to "get over it." We have to feel it.
And the benefit of having felt it is that your heart returns to its natural softness. Not feeling our more vulnerable feelings and staying stuck in frustration keeps our hearts defended (the wall that Mica made out of my hands!), and sadly, defended hearts don't keep out only hurts but everything else too.
Allowing in the hurt, being supporting through the hurt — going through the experience and coming out the other side — is really what makes our hearts more strong and resilient. And soft.