One particularly sensitive child with a lot of frustration and sadness plus one especially fizzed-up, spazzy child plus one tapped-out mama looking to hide equals one tough, terrible week.
How to survive something like this? One moment at a time, I suppose.
And so one day, after I had watched myself skirting the boys all morning, starting at Mica's high-pitched screeching and fruitlessly trying to dampen Orlando's energy, I decided to face reality.
What I really decided was that we were going to run-away from home, as my friend Sara calls it. Something needed to change, and I had come up with a vague plan of going to the beach and then for ice cream. So I walked downstairs, where I found the boys struggling on top of each other.
Mica was crying a few stingy tears, and accusing his brother, "You killed Bobo!" while Orlando was trying to protect his own stuffed animal from retribution.
I could have swept it all away — Mica's feelings, the sibling squabbling, the chaos — with a simple, "Let's go get ice cream!" but I bent down and began to comfort Mica instead. Having made any plan at all, even one to run-away, had somehow helped me engage with these children of mine.
"Oh no," I said gently, "Bobo is dead? I am so sorry."
Mica began to cry in earnest.
Orlando said, "I don't think you're helping, Mama."
I gave him a soft shrug, "I guess we'll see."
And that is how I ended up sitting on the couch with Mica for twenty minutes as he truly, genuinely mourned Bobo. So tender!
Mica sobbed, "Bobo is dead. Orlando killed Bobo!"
It was not lost on me that Orlando was implicated. Oh, so much frustration this one has about being a little brother!
Just the day (or two?) before Mica had become sooooooo angry: Orlando doing this, not doing that… Orlando going too fast, Orlando wanting to do his own thing, leaving Mica behind…
On that day, there weren't any tears, though we were sitting quietly and closely, with him in my lap on the kitchen floor. He had moved from complaining to playing with a toy and showing me all the things it could do. It was powerful and multi-talented, and was transforming before our very eyes.
Every once in a while, I would whisper something in Mica's ear. He seemed to be drinking this information up, though he rarely directly responded.
I would say things like, "It's hard to be a little brother."
and
"You wish you could make Orlando do what you wanted."
and
"You are doing all the right things for you, right now. You will do more things when you are older."
and
"You are not a mini-Orlando."
He responded to that one: "Everyone thinks so! They always ask if we're a twin."
I told him gently, "But you're not… And even twins are two different people. Orlando is Orlando. You are Mica!"
It seemed like a relief to him, as if he wasn't really sure they were two different people. I think back to when Mica was two years old at Orlando's baseball class. He was playing with all the other kids, who were five and six, up at bat, running bases, and it was so cute in so many ways but … skewed somehow. He was so confused for a long time about who was big and who was small.
I remember saying, "I don't think Mica knows he's not five." Just how babies don't really know they're themselves and not their mother until a certain developmental point. Sometimes I think that is what we are going through now, over this last year or more: differentiation. It's confusing and frustrating, and filled with loss.
"Bobo is dead!" That is pretty much all he wanted to say and the tears just poured down his cheeks.
"I am so sorry," I murmured variations on this theme throughout.
The three of us made two circles. Mica sat on my lap facing me as he held Bobo in his arms, and I had my arms around the both of them. He held Bobo and cried, and I held him and comforted him, while he cried until the crying was done.
The tears slowed down and eventually stopped, and we sat together. I wondered silently, "What wants to happen next?" and Mica, as if in response, said, "Mama, we need to bury him."
We wrapped him up in a dish towel (conveniently already strewn on the living room floor), and Mica put him underneath the couch cushions. We said a few words and we left him there.
We went outside to retrieve Orlando, and we went to the beach….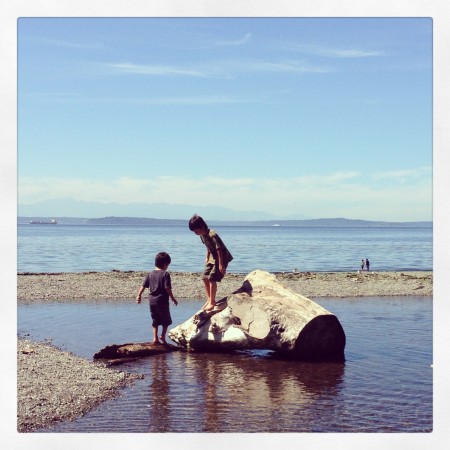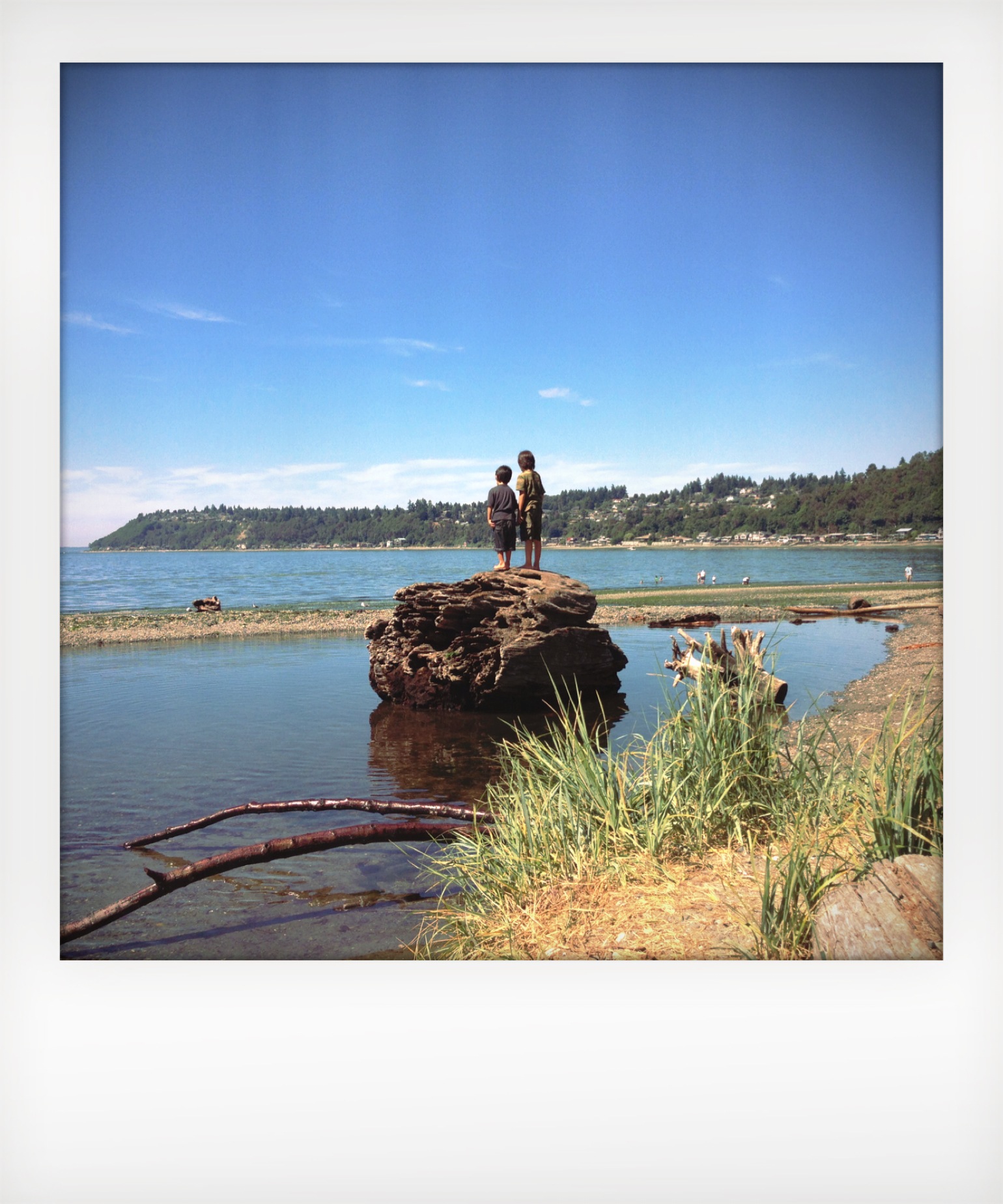 …where life was not perfect (though the pictures look good, don't they?). Still some squabbles and a mama who mostly just wanted to sit silent and still in the sun. But we got filled up, wet and climbing and curious. Later, ice cream and then dinner, and home to Bobo under the cushions, who, miraculously, is alive again.
Alive but not back to where he was. Bobo was lost; he was grieved. He passed through something and Mica, too. And yet there is frustration/sadness — frustration needing to turn into sadness — in a child who is still and always will be growing up, transforming, and coming into his own each and every day.