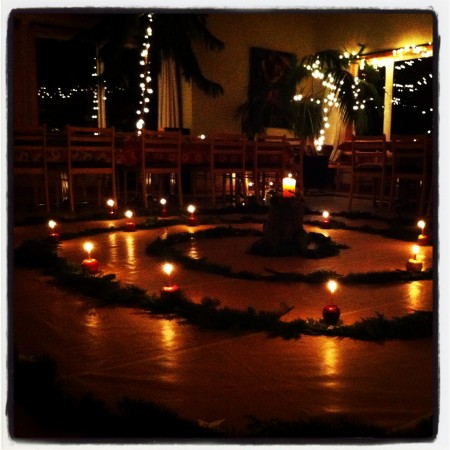 Over stars is the mother wandering
In her mantle's flowing folds.
Threads of gold and silver starlight
for her little child she holds.
Throngs of stars behold her passing,
all the sky is filled with light.
With her hands she weaves and gathers
blessings for the candle-lit night.
This weekend we prepared for solstice by walking the spiral of light. Each person walked to the center of the spiral carrying a delicious-smelling beeswax candle held in an apple. At the center, he or she lit their candle, and then placed their apple along the path as they returned to the beginning.
We sang songs — the one above, and the one below:
We are a circle
within a circle
with no beginning
and never ending.
Blessings to all.