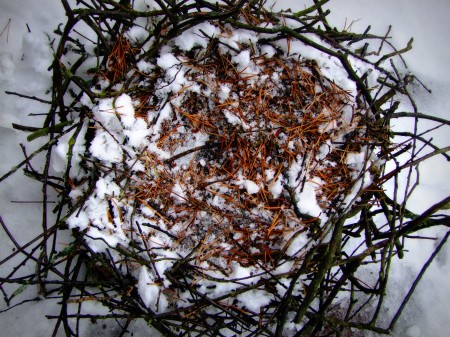 A tree fell across the path — a pine with a broad, low canopy, where the kids had loved to play. It seemed to have fallen slowly, and was resting there, leaning over, with most of its roots still in the ground.
It had become too heavy with snow and ice. Orlando was showing me the tracks in the snow he had found (raccoon), and then we were both standing in front of the tree. I visited with it. I had seen a few other neighbors readying to cut it, and I wanted to say goodbye.
Orlando said, "There's a bird nest in that tree!" He remembered from before, and he and I looked for it near the top. The nest was big — about a foot and a half in diameter — and I pushed through the laden branches to reach it.
It came out in my hands intact, filled with snow, which I scooped away. The twigs were thick, almost as thick as my pinky, woven round a center filled with lichen, moss, pine needles, some fuzz. We speculated crow, and our eyes immediately looked to the sky.
And then back to the nest.
A place to come home to. A place to rest, and grow, and fledge. Orlando will climb another tree and place it there. An offering.
~  *  ~  *  ~
I didn't intend to pick a word for this year, though I have done that before. What happened is that a few ideas came swirling around and coalesced into an idea, a vision, a practice.
It probably started with cleaning my office — this was no ordinary cleaning.
The office had become a de facto storage room, a place to put all those things that have nowhere else to go. Furniture that had been rearranged out of its spot, boxes that didn't fit in the attic. This, on top of boxes that were never unpacked from our move. (Yes, we moved 15 months ago.)
I spent two days cleaning, and sorting, and putting away, and giving away. I created a little meditation nook for myself, something I haven't had since before we moved.
The office is long and narrow (it's essentially an expanded crawl space), and Rom and I share it. On my side, my desk is against one wall, bookshelves on the other. A window in between.
So I put a beautiful multi-hued green rug behind my office chair, along the bookshelves, and put my meditation bench on top of it, in front of a little tray that contains a candle, my mindfulness bell, and a statue of the Buddha.
I kept thinking, I am creating a sacred space.
~  *  ~  *  ~
And then we walked the labyrinth, as we do on New Year's Eve every year.
Before I walk, I often set a little intention to be open to whatever arrives, to some sort of guidance or clarity. To be honest this walk was quite jumbled. Mica was asleep in Rom's arms while Orlando walked with me. We walked in but then while Orlando and I were on the way out, Mica woke and wanted to join, so I began again with him, and we went to the middle, where he promptly turned around and walked straight out, so I followed him over to Rom, who was ready to leave.
In the midst of all that, what came to me as I was walking the labyrinth was this: Be love… open arms. An image of how I might offer open arms, to my children especially, to be a destination and a comfort…
To offer them a place to come home to… To receive and give.
I told myself to remember that, and that I could come back to it when I had more time for contemplation.
~  *  ~  *  ~
I didn't come back to it, but it came back to me.
A week later I found myself at a nonresidential two-day retreat with my dear teacher Kamala Masters. She was giving a talk on Renunciation: The happiness of letting go. In particular, she was talking about letting go of greed, aversion, and delusion (not bad things to let go of, right?).
On the last day she talked about antidotes — those things we can do that grow the antidotes of greed, aversion, and delusion — and she mentioned the practices of generosity, gratitude, and love.
And it struck me: this is my year for love. To invite it in, and offer it freely.
To practice and feel and grow love.
A place to rest.
In the Buddhist tradition, love is talked about as the four brahma-viharas ("divine abodes" or "best homes")…
lovingkindness, which is felt as goodwill and friendliness toward others and oneself
compassion, which is felt as a quivering of the heart, a sense of caring for the suffering of others and oneself
sympathetic joy, which is felt as happiness over another's (or one's own) happiness
equanimity, which is felt as an inner spaciousness, the ability to hold all the experiences of life
Many people are familiar with the lovingkindess practice (also called "metta"), but each abode has its own practice — phrases to say as you meditate. (I learned the equanimity practice from Kamala a few years ago.)
So sitting at that retreat, I knew, right then and there, that I would be practicing the brahma-viharas this year — all of them, each one for three months. And that I had built myself a little nest in which to do it.
A place to come home to.
It's been waiting patiently for me.
~  *  ~  *  ~
What about you? What word, theme, or vision is coming into your life?