This month could be summed up by cuddle time, indoor time, couch time, books, lego creations galore, a splash of glitter, video games (phonics, air penguin, and angry birds), math, conversations, and the ocean.
Always the ocean!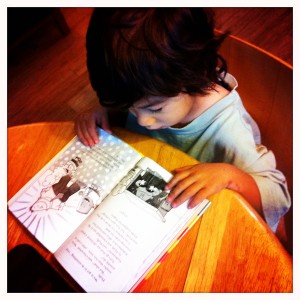 reading – As usual, we've read a ton of books, with links to ones I particularly recommend.
We loved the short story collection The Serial Garden by Joan Armitage. Another great one, chosen at random by Orlando at the library, was The Serpent Slayer and Other Stories of Strong Women.
I bought ourselves a copy of Anh's Anger, which both of the kids are somewhat fascinated by. During one meltdown of Mica's, he asked me to come in the bathroom (where he was crying and wailing and from which just moments ago he had asked me to leave) and read him Anh's Anger. We reconnected after that (and after eating some food).
We read a bit about penguins, after our visit to the zoo and lots of playing of baby penguin games. A cute picture book was And Tango Makes Three, based on the true story of two male penguins in a zoo who raised a chick.
After reading and re-reading all eight books in the series, I think we've seen the last of Captain Underpants for a while and Theseus was the last of the Greek heroes (for now at least). Though we did read a few books about life in ancient Greece, explored Greek ships, and found maps of Odysseus's journey.
And we've been revisiting Cynthia Rylant — Mica seems at just the right age for them — Mr. Putter and Tabby, Henry and Mudge, and Poppleton. I won't link because there are so many, but I would recommend them.
talking about – Being vegan and spanking. Both brought up by Mica spontaneously as we walked together. The spanking was from something in Captain Underpants, and being vegan came up from visiting the zoo and talking about how no creature wants to be hurt.
Voting and design. One of our neighbors ran in the last election and I was eagerly looking up results the next morning. Orlando wanted to know if I voted for her, if Papa voted for, and if he did, too? So we talked about elections and being eligible to vote, and how they count the votes (percentages).
Rom, Orlando,and I also had a spontaneous and notable conversation about design, and how it works. Rom talked about how design tries to solves problems and that the first step is really understanding the problem and then being able to evaluate if your design solves the problem without introducing any new problems. Orlando was really engaged and thinking up lots of examples.
How to tell when it's going to rain, looking at clouds.
out and about — Mica and I went to the local firehouse for a tour; we also met my cousin and her kids at the zoo. We went on a family visit to the ocean and saw the highest tide we've ever seen. And a seal!
Rom took the kids to The Museum of Flight, and the whole family spent an afternoon at the local etsy fair, meeting up with beloved cousins.
Plus the regular ole errands, meeting friends, park days, going to parks on our own, playing with neighbors, picking up a neighbor from school (which was big fun for us) and having a "half-sleepover" where we picked the kids up from our neighbor at 9:30 PM in their jammies with their teeth brushed.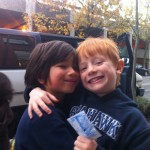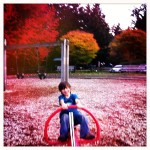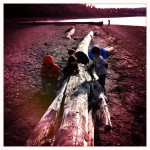 being human — We had many chances to play with friends, working out conflict and understanding self-control… Orlando and I prepped before meeting one set of friends, about things he could do when he was feeling so excited, and after I had forgotten all about it, he went and did one of them ("getting his ya-yas out" by running around rather than getting up in the other kid's face). I was much more present and proactive in helping, too, so that felt good, even when things got pretty intense. We also talked about and worked with inclusion, which seems to be brewing a bit here in cohousing.
playing and creating — Legos! There was a ninjago binge after Mica's birthday and the usual lego ship and machine building that continues on, combining with magnatiles and blocks to create giant "bases" to house, shelter, and repair their creations.
Forts galore (here and in the Common House), lots of obstacle courses built inside, and races in the house. (Yes, we've been homey and cozy these last few weeks.) I had hoped to put up our swing but was stymied once again by not having a stable enough place to put it.
We had a big shin-dig in our community, to say good-bye to a beloved friend. The kids did a bit of line dancing (the party's theme was a ho-down!) and played away downstairs. The next day we had an impromptu group game of bingo in the Common House, which was great fun. The boys played their first charades at a neighbor's house.
There was maze mania (doing mazes on paper) after reading Theseus. And sticker insanity after Grammy sent them big books of 500 stickers. And both boys recently used Mica's birthday glitter to create pictures, and now our house — and everything in it — is covered a fine sheen of "fairy dust"!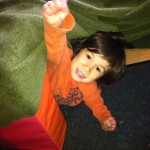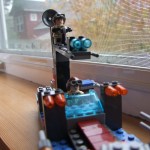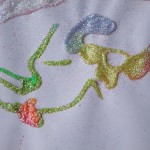 words — after the "backwards land" spontaneously appeared in one of our bedtime stories (which we make up together), I spent a few days writing down words backwards, per the kids' requests. Mica and I wrote thank you cards for his birthday, which featured lots of… you guessed it! backwards words.
Both the boys are doing more phonics games.
regular classes — Orlando attended outdoor school once a week, where he loved building traps (dead-fall and string) and doing two days of scouting and awareness.  He also has continued with his Math for Love class, learning about square numbers, factors, and strategy. Both are on break until January.
watching and listening – The Story of Math on DVD. This was a pretty incredible series — I don't even remember how I heard about it, but at some point I had put it on hold at the library and it showed up recently. Part II was our favorite: The Genius of the East. The last two get pretty abstract, but Orlando wanted to keep watching. We just finished yesterday but I've already got lots of ideas to offer — Mancala, Backgammon, Go, the Great Wall of China, Archimedes, Hypatia and Pythagoras (more Greeks!)…
We've continued listening to classical music, The Flaming Lips, and Mustard Pancakes (though the latter is fading out). We've added in our recording of the Jataka Tales, which the kids like a lot. Me too.
And I guess that's it. Oh, one more thing!
You can join in, too!
mb is hosting a linky, which each of us is welcome to submit to and/or host ourselves. It's a great way to share the love of unschooling.
And, there is no required format — you could post long, short, detailed, a few highlights, lots of photos, only photos, etc.
Enter below (if you're seeing this post in a reader, click over to see the linky)!
——————————————————————————————————————————————————————-