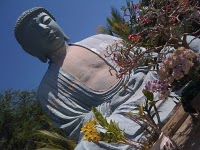 The Buddha, in Lahaina on Maui
A year ago, we were in Hawaii, cruising down the two-lane road from our little apartment, headed somewhere south… maybe to the botanical gardens. It was a longer drive, and the tension was high.
Mica was fussing and uncomfortable. He didn't want to go. He never does. He likes to stay.
Orlando was telling Mica to stop crying, Rom was telling both the kids to be quiet, and I opened my mouth to tell Rom to stop telling them what to do, when I stopped and said instead, "Hey…. I have an idea! Let's stop telling each other what to do, just for a moment."
Everyone stopped.
I added, "And we can just feel our feelings. We don't have to say anything yet. We can just feel our feelings."
Rom asked me, "But what about some peace and quiet?"
And then we laughed. Yes, quiet. We looked at each other, struck with the lunacy of the situation, knowing that peace and quiet is an inside job.
And then it started up again: Mica crying, me feeling stressed because I didn't want to turn back, Orlando broadcasting the stress, and Rom trying to tamp it down.
Breathe in, Mama, and feel your feelings.
And the whole rest of the trip, that is what Rom and I said to each other, whenever that urge to speak – but it's more than an urge to speak, whenever that urge to control another person  – would come up, we would gulp in air and pause. Or my eyes would widen in the effort to hold back, and I would raise my eyebrows and breathe out with a smile, "I'm just feeling my feelings." Or into the gloomy quiet, I might venture, "Are you having your feelings?"
And it was good. To feel them. To laugh about them. To not act them out. To have what is ours.
And now, all this space and time later, the other day, Orlando and Mica were playing together and I could hear them from the other room. I heard some fussing, a scuffle, a sharp intake of breath, and a jerking movement  – the familiar sequence of older brother finding something younger brother is not supposed to have or something of his little brother has broken.
All was quiet.
I was alive with listening… and then I walked over to see two boys, a few feet apart, apparently doing their own things.
"Is everything okay?"
Orlando sighed out, "Yeah." He gestured to the fractured lego creation in front of him, which he wasn't yet touching. He told me, "I'm just feeling my feelings."
I'm right there with you, sweetheart.
* ~  * ~ *
More posts about feelings:
Journaling throughout the day using feelings and needs:
So how are you feeling? And why?
Helping Orlando see how he is not responsible for my feelings:
We Have Different Feelings
Six Going on Sixteen
Developing my ability to feel my feelings:
Witness
Practicing Peace: Self-Connection and More Self-Connection
Shifting into a more positive feeling place:
Sink or Swim
That Apple Is Big Enough and So Am I