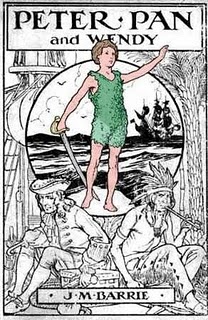 Who can resist Peter Pan? He's so sneaky. He's such a trickster and a braggart. He can fly! He has a sword! And a feather in his cap! I ask you, what six year old boy can resist him? Orlando's eyes light up whenever he thinks about Peter Pan, especially about Peter Pan tormenting Captain Hook.
And Peter Pan's story has so many mysteries, and Orlando has many questions…
:: Why does Captain Hook want to kill Peter Pan?
:: Why are the boys lost?
:: Why is Captain Hook so afraid of the crocodile?
:: Does Peter Pan really not feel afraid of Captain Hook?
:: How did Wendy sew Peter's shadow on?
:: Why did Tinkerbell want the Lost Boys to shoot Wendy?
So we talk about jealousy and bravado and anger and transference and home and anxiety and parents and being carefree and masking our feelings and and and…
But mostly Orlando likes to pretend that he is Peter, and that I am Wendy. Before Mica was old enough to know we were playing a game, he wasn't part of it, but now he is Little Michael. Or sometimes they are both Lost Boys. Tinkerbell lives in the bathroom, where Orlando — er, Peter — goes off to confer with her every once in a while. I am always Wendy.
The game goes like this: I go about doing my regular mom things while they are Peter and Michael or Lost Boys. Peter asks me questions and I am always to answer in the way Wendy would. I am never ill-tempered or bossy, even if I'm rather motherly. I talk about how rambunctious these little rascals are but I never turn on them and exclaim they're "too loud!" I never tell them to leave me alone.
They like to get too close to the stove so I will shoo them off, admonishing them to be careful not to burn their tails. They like to wrestle and roll around and be generally wild inside the secret hide-out, and they don't mind going "outside" when I — I mean, Wendy — asks them to.
When Orlando is Peter, he likes to fly, and he tells me that when I see Peter fly, I get so dizzy that I fall down (and that I have to fall all the way down, not just part of the way down). So I do, or rather Wendy does; I find that she is almost always agreeable. Orlando looks so proud to have flown so fast.
Orlando starts every sentence with "Wendy…." and I always reply with, "Yes, Peter?" Wendy thinks Peter is delightful.
It occurred to me that playing Peter Pan is a perfect way for us to be polite to each other by donning specific personas. We get to live in a magical place and in this magical place, my children find a mother-friend who is loyal and kind, and I find children who are perfectly wonderful and wild doing what children do best… being wonderful and wild.
Orlando was introduced to Peter Pan last Christmas. It was one of the only kids' books in the house where we were staying (we were visiting my parents but staying in an empty friend's house). Orlando wanted me to read the book to him, over and over again, but the book was an abridged version of the movie, and I found myself heavily editing it as I read. It wasn't so much the content of the story (I thought at the time) as it was the terribleness of the storytelling. It was a really just random blobs of summary text tacked on to the full-page pictures.
I remembered Peter Pan being so much better, so when we got home, we checked out the original book from the library, and it was better (and it wasn't — all the racism and sexism and killing and !! ). After a few weeks of reading the book and play-acting, we had pretty much forgotten about Peter Pan.
But Rom and Orlando attended a play at the Children's Theatre last month, and Peter is back. Almost one hundred years after he was written, Peter is gallivanting around my house, providing a character to be and deep things to talk about, bringing to light life's mysteries and the histories from which we've yet to completely heal.