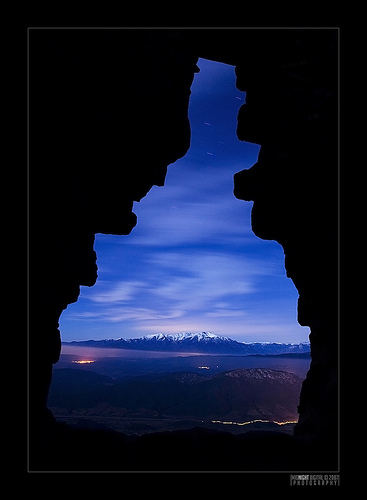 *Photo by Midnight-digital


Then whatever betides of light and shadow, I can look out on life with quiet eyes. — Howard Thurman
Sometime last winter, I signed up to attend a two-day non-residential retreat with Kamala Masters. As the time approached, I didn't feel like going. I was busy. I was tired. I didn't know what she was going to talk about (though I did know that she is a mother of grown children). I had a lot of doubt and fair amount of resistance.
I went.
She talked about equanimity.
Sylvia Boorstein writes that "equanimity is the capacity of the mind to hold a clear view of whatever is happening, both externally and internally, as well as the ability of the mind to accommodate passion without losing its balance. It's the mind that sees clearly, that meets experience with cordial intent."
Imagine the balance of a mountain AND the spaciousness of the sky. Equanimity is seeing with quiet eyes, and responding from your own internal place of balance.
Mindfulness allows us to become familiar with our internal terrain, becoming familiar with our mind-states of aversion and attachment. Equanimity is said to be resting our mind before it falls to either extreme. — Kamala Masters
It turns out that equanimity is that thing that helps you survive in life without being tossed around by the spasms of your own broken and desperate heart.
It turns out that equanimity is also that thing that helps you open your heart when it has clamped shut in a perverse attempt to protect itself.
It turns out that equanimity is just the thing I've been needing.
Practice Equanimity
You might already know about lovingkindess meditation, but did you know that there is a similar practice for equanimity? To think that one can practice equanimity!
Just as in lovingkindness meditation, you bring to mind different people in your life, starting with a person you feel neutral about. Then you move on to someone you consider a benefactor, then a dear friend or a family member, then someone you have conflicted feelings about or are having difficulty with, and lastly, yourself (try to pick something specific in your life).
For each person, imagine them or think about something you know is happening in their life… take the time to really focus, and then say to yourself: This is how it is for you in your life right now.
Then take the time to notice what is happening in your own heart. Perhaps you feel sad or indifferent, hopeful, disappointed, joyful. Just notice what it is… and say to yourself: This is how it is for me in my heart right now.
Don't only notice but try to take the time to open to whatever is happening in your heart. You might say to yourself: May I open with balance and ease to what is arising in my heart right now.
Do this for each person, and at the end of your practice, gather the people together and give them lovingkindess… you can say: Just as I wish to be safe from all harm, may you be safe from harm. Just as I wish to be strong and healthy, may you be strong and healthy. Just as I wish to live with ease, may you live with ease.
Listen to a Guided Meditation
Please don't take my abbreviated description as your only guide… listen to Kamala Masters give an introduction and guided meditation here.
Kamala has a wonderful voice and presence, and your heart will breathe a sigh of relief just listening.
I am grateful to have received this teaching from her.