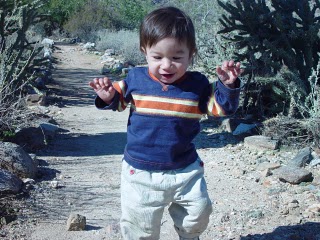 You are now cruising all over the place on two feet, while holding your slightly bent arms aloft, your loosely clenched fists bobbing around near your head, keeping uneven time with your incredibly short, wobbly legs. My dad calls it monkey-walking.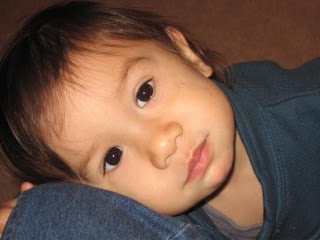 You're dreaming about words and language. You talk all night long, make a lot more imitative word-sounds. You signed "owie" today, thoughtfully, as if you were saying it to yourself, after I showed you the sign. You are thinking very hard about making animal sounds. You developed your own way of talking to Grandpa. You had started to make raspberries recently and of course, my dad started making raspberries back to you and now you think that is the officially Grandpa greeting.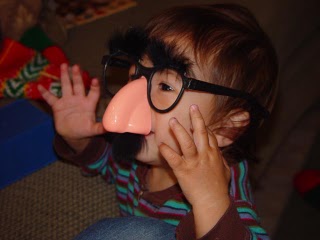 My mom calls you a comedian. You have always given a very winning, very knowing smile when you are doing something mischevious or especially exciting. The other day, you nursed and nursed, and when I reached for my water glass to have a drink, you popped off the breast, and said, "Eh." I gave you what you wanted (which was a drink of my water) and you gulped down water like you hadn't just nursed, and then you let out a big ole burp. I burst out laughing. You smiled and then you tried to fake-burp! You made a little urrrr sound in the back of your throat and gave an even bigger smile.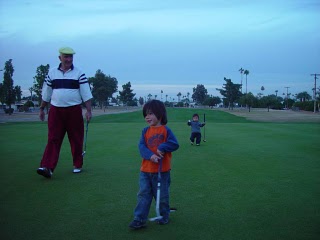 You and your older brother are on the cusp of becoming playmates. I can see how you two are interacting differently, more cooperatively, and having more fun. You pick up a little car and make a subtle zooming sound. You take a crayon and bang it on the paper before taking a bite of it. You follow your brother's lead and use the golf club to hit the ball. You laugh when he laughs. You wrestle with him and when you've had enough, you push him away. You have always been, and continue to be a very clear communicator. Whenever you want something, you come over, climb up, take my fingers into your fists and pull me in the direction you want to go.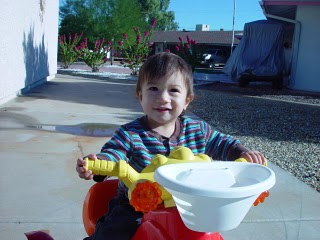 I see you growing like mad. I noticed this morning that your head is almost table-height, which it most certainly was not two weeks ago when we left for Arizona. You're heavier too, our dense little bomb of aplomb and easygoingness.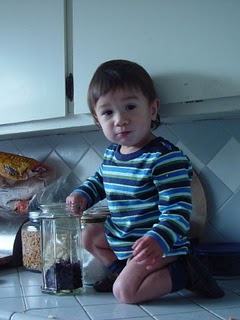 As ever, we love you. And your eybrows.